A Day on the Barrier Islands
We left the dock at noon. Three guys and me. They've been "picking" on the islands for 25 years, this was my first time. They took me along in honor of my birthday. It was a gorgeous spring day and within 6 minutes of leaving the dock in front of Dave's house we were on Metompkin Island.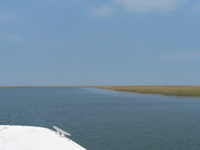 The official bird counters were there checking on the piping plover nests. The plovers areendangered and while they are nesting we are only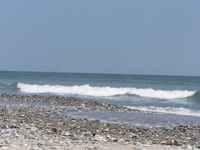 allowed below the high tide line. They shoved off and we had almost 5 miles of shoreline to ourselves.
Picking means looking through piles of shells for something that is not a shell. Arrowheads, fossils, Indian grinding stones....stuff like that. As you can see from the pictures this isn't easy---at least it wasn't for me. But within ten minutes the guys found a dozen treasures. Their favorite time to go picking is in the winter after a big storm. The island has moved many miles inland since the first Indians lived on Metompkin and the big storms often push treasures onto the beach.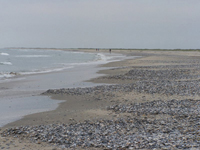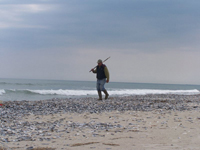 We had lunch and talked about how amazing it is to have a pristine ocean beach to ourselves. All day. And how fantastic it is to live in a place where you can play hooky for an afternoon and be at your own private beach in minutes.
Of course you have to have a friend with a boat. But I have lots of them. Lucky me.